Every time I think of having a great dining experience, I want my favorite restaurant, this made me think — why I always choose the same? While great taste could be one of the reason, the primary reason is the consistency of what they deliver, the same ambiance, gestures, and relishing taste as always. For me, they are providing a "brand value" without just focusing on pricing. That's precisely what it means when we say Brand compliance and MAP compliance differs. While Brand targets to deliver the brand value, the MAP just targets the pricing factor. Our post of today will help you in understanding in detail the difference and establishing Brand compliance and MAP compliance for your eCommerce. Let's get started –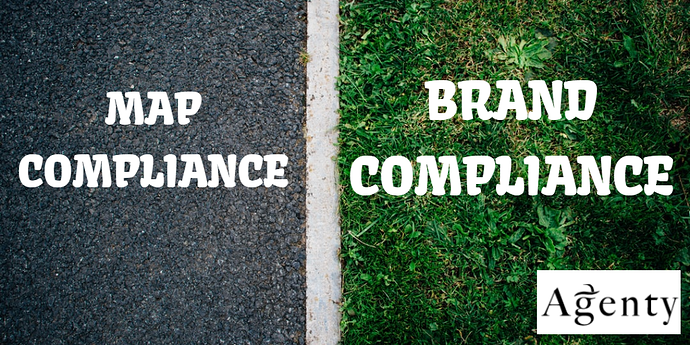 What is MAP?
MAP or minimum advertised price is the lowest price that could be publicly displayed for a product by the retailer.
One of the prime reason manufacturers enforces MAP policy was to ensure their brand positioning is not questioned. As a product expands in distribution, the manufacturer should benefit from increased revenue. But online e-commerce float deep discounts and sales leading no control over the amount of cash consumers pay for the goods.
MAP assists a brand in limiting the price offered by offline and online stores. It sounds great isn't? But as the brand expands, it gets challenging to keep track of each retailer, and that's were MAP monitoring tools come handy to save time yet maintain brand identity.
Okay so this was about MAP but what is MAP Compliance?
What is MAP Compliance?
With ever-growing competition in online and offline space resellers are finding ways to avoid the MAP enforcement by encrypting the prices, customizing prices on social media, clubbing or offering a bouquet of services/products and implementing coupons and instant cashback to lure customers and increase sales.
So, to make a MAP policy intact with each product sold, MAP compliance is needed. Here are the ways to implement it –
Framing the Policy the Right Way
Define Violations
That's an initial step to attain "nirvana" of MAP compliance so make sure to define violations and price obfuscation in case of price encryption or customized offerings on social media
Use of UPP [Unilateral Pricing Policies]
While you may have noticed clubbing of different products gets customer significant discounts/savings like shop for 100$ and save 20$. With these grouping brand value may get affected, so monitor group checkouts with discounting, and you can complement your MAP pricing with UPP to correct cashback/discounting at checkouts.
Enforce the Policy the Right Way
Monitor apps, ads, and all devices
Shopping is no were dependent on a device, resellers now sell via the app, Whatsapp, FB, Instagram, so it is essential to track all the devices to enforce MAP compliance
Offer Perks to who follow MAP policy
Re-sellers are also in business keen to make revenues if their competitors are offering products at the lower price it's hard for them to compete on fairgrounds. Hence with Monitoring and tracking tools get the genuine followers and offer niche products of your brands exclusively to them. It helps in getting loyal retailers with MAP policy in place.
Now that we know one aspect of compliance let's explore another one, i.e. Brand Compliance.
What is Brand Compliance?
Brand Compliance is a bouquet of all compliance's, i.e. MAP compliance, Assortment Compliance, Marketing Compliance, i.e. all that you can do to maintain your brand consistency and value.
When manufacturers target Brand Compliance, they do not need to duplicate the efforts of their compliance teams. With a broader range of monitoring in less time and effort, a manufacturer could present its brand to its customer in the best possible way.
So making sure that MAP compliance is not the only way to get a brand value. Apart from that, retailers who can use different formats like text, graphics, or messaging can also alter how your brand is placed.
Marketing Compliance
· Does the reseller website provide an honest representation of the brand?
· Does it dictate the promotional offers aligned to brand values?
· While the marketing campaign says, "we are offering the lowest price for a product," the price monitoring tool finds a reseller who is offering cheapest.
· The campaign says services and maintenance is covered by the brand with expert advice, but its handing over of DIY manual
· The marketing campaign dictates how your future would be their utmost priority once you buy from them, but the result is poor engagement.
Assortment Compliance
· While the display shows a fancy handbag on the social media page of the retailer, the customer clicks on the image only to know it's out of stock
· The reseller shows "new category/product" added only to know later it's not available for the customer's location
As we saw, even though your brand statement and values may be aligned, they may not be the case with your reseller. So you are making a promise but is not being delivered affecting your BRAND. It's worth noting the famous quote-
"Your brand is a story unfolding across all customer touch-points." — Jonah Sachs
How to Enforce Brand Compliance?
In the above paragraphs, we saw how MAP compliance could be enforced; now let's take a closer look to enable other compliance's for Brand consistency and value.
As Seth Godin says — " A brand is the set of expectations, memories, stories, and relationships that, taken together, account for a consumer's decision to choose one product or service over another ."
So what can be done to manage Brand Compliance?
Set Up a Geo-based compliance
As research by MarCom Central and Demand Metric highlights when content is spread across geographies, it loses its potential to make an impact in revenue generation by 11%. The same research highlights that 85% of the marketers consider themselves as neutral/very poor in meeting buyer needs with content fragmentation.
As Angie Geffen, VP of Marketing for Perion Network, describes the challenge for global brands in a recent post, saying:
" Many brands already market to different countries, but they tend to focus on individual countries rather than a global strategy. Therefore, they have multiple campaigns running, and each is operating independently. Each campaign is tailored to the specific country in question. However, those campaigns are not operating in conjunction with one another. They might as well be for different brands — they are so different and have absolutely nothing to do with one another ."
So you need to monitor brand across geographies with retailers, launch an appropriate marketing campaign, and provide assortment correctly.
With GeoBased monitoring, brand compliance is a step closer.
Follow Social Media, Monitor content and campaigns
While resellers may follow brands on social media, your Compliance tool also needs to follow your retailer/reseller. Track their pricing, the kind of services they are promising, and the images that are uploaded. What does the redirection lead to? A genuine product or a fake one? What about the pricing? Does the graphic matches the social media image?
All these insights would provide you a 360-degree view of your product and brand.
Collaborate and Listen to Localize
With tools and technology, you may get global retailers, but monitoring and accessing the need to offer what your customer needs you to need to localize. So use the same technology, form teams, and let them monitor and realign the brand value for the local offering.
Brand Compliance does not always mean enforcing rules and protocols to the retailers; you also need to work with them to understand what "customer" are looking for.
Do you remember when Nike launched Hijab to target Muslim women across the globe?
So collaborating and listening also helps in maintain Brand Compliance.
At this point, it is worth mentioning a famous quote from Sir Richard Branson — Branding demands commitment; commitment to continual re-invention; striking chords with people to stir their emotions; and commitment to imagination. It is easy to be cynical about such things, much harder to be successful
As a manufacturer, when you invest time and effort to boost brand compliance, you can be assured there are no losers. Customers are offered a consistent, stable price for the items they want to be loyal to and value over time. A bigger picture of brand compliance offers your retailers and resellers "trust" that they are engaged with a trustworthy business that offers a high-quality product and assists retailers as business partners leading to loyalty and elevated sales.