Web scraping is an automated process to get data from multiple resources which is used by various industries without wasting their time in performing repetitive tasks of copy-paste. Here, top 10 easiest web scraping software are mentioned to help you find the best option to meet your data needs.
Web scraping is also known as web extraction, data scraping, web harvesting etc. But their goal is to get data from the web and store it in their local or cloud storage for further processing or analysis. Web scraper uses bots to scrape data from online websites.
Top Web Scraping Tools By Google Trend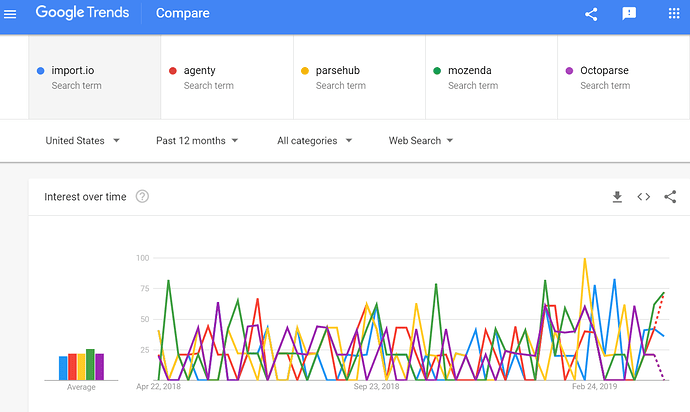 Top Web Scraping Tools By Region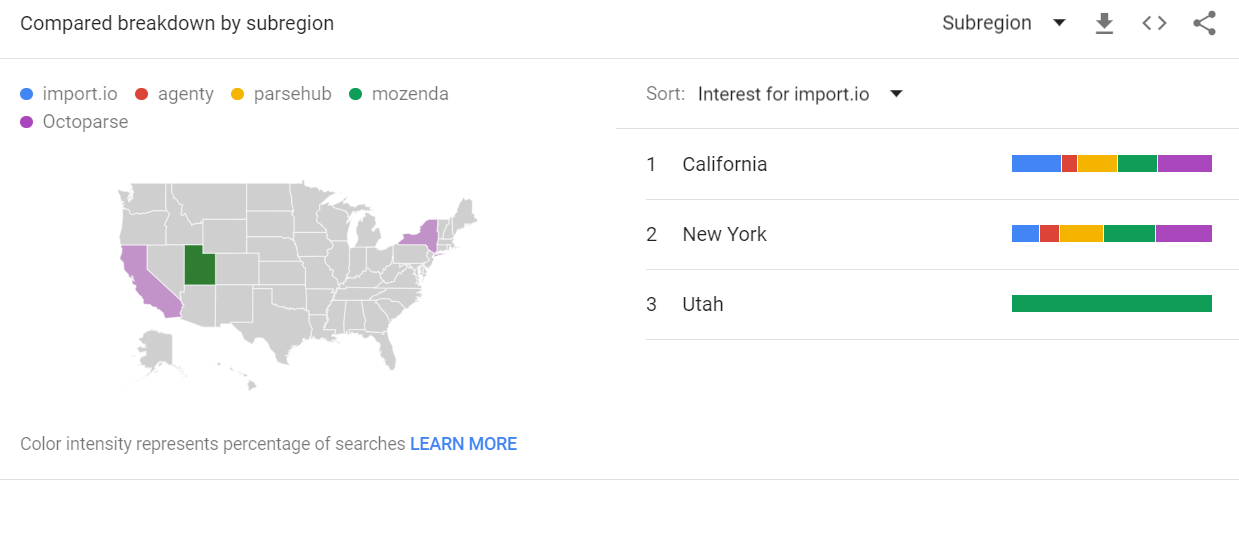 Now the question is what kind of data is obtained by web scraping software. This can be in multiple form such as:
Images
Products
Videos
Emails or Leads data scraping
Content information: Price, descriptions, reviews, phone numbers etc
Data feed for machine learning or AI
Products data for retail or manufacturing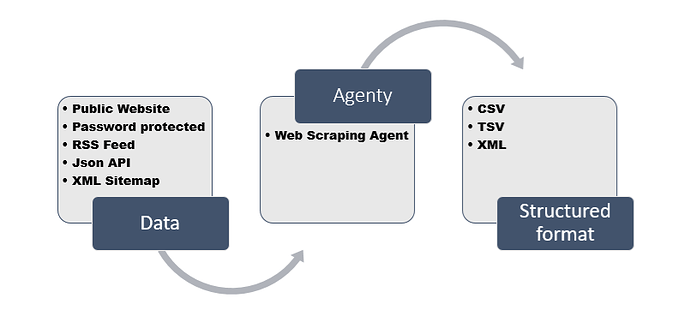 Agenty is SaaS (Software as a service) company. Agenty's Scraping Agent is cloud based software. Web Scraping Agent is no- code scraper which allows you to extract data from any websites. It offers point-and-click web scraper extension for users who want to extract data from web without any programming knowledge.
Pros:
Point-and-click setup.
Built in post-processing function.
Scripting for advance logic.
Multiple Plugins to integrate with 3rd party apps.
REST based API.
Pricing starts from just $29.
24/7 customers support available on chat, email or on call.
Cons:
Free trial is limited to 100 pages only.
Does not support Linkedin, Facebook crawling.
Import.io is Los Gatos, CA based company founded in 2012. The Import.io web data platform is a scalable and reliable managed service or hands-on SaaS solution for extracting web data accurately
Pros:
Easy to use
Rest based API
No coding required
Cons:
Overpriced. The price is 10x higher then Agenty (Agenty : $29 per month and Import.io $299 per month for 5000 pages per month)
No individual website level support
Dexi.io is basic web scraping and data automation software. This is also called cloud web scraper tool. Dexi enables you to get data from all websites and social media pages. It can collect and save data to Box.net and Google drive and export this into JSON and CSV.
Pros:
Firefox extension to setup agents
Agents creation services available
No coding required
Cons:
Expensive for starters: $119 per month to start
Difficult for non-developers
Lack of documentation, example agents
Expensive for starters
Scrapinghub is the creators and the main maintainers of Scrapy, a popular web scraping framework in Python. Scrapinghub also offer services for building your scraper, deploying and running them to provide data of choice.
Pros:
Scrapy engine to deploy and manage your scrapy spider with your web scraping team
Splash engine to full blown browser behind an API to execute action
Crawlera smart proxy to handle the IP block and automatic IP rotation
Cons:
Expensive for businesses: Starting at $450 per site
No Refunds
Hard to understand billing system
Parsehub is a browser-based web scraping tool. Parsehub can handle interactive maps, searches, forums, drop down, javascript, ajax etc as Agenty.
Pros:
Ability to use REGEX
Run on your system
Dropbox, S3 integration
Cons:
Require software to be installed
Expensive: Pricing starts from $149 per month
Limited support
Have pages limitation on per run.
Requires lots of steps to set up the scraper.
80legs is a easy web crawling service which allows its user to create and run web crawlers through its server as a service platform.
Pros:
Pricing starts from $29 per month
Can be customized
Good for crawling
Cons:
Not as flexible as other tools
Not good to scrape when you have category or URL list
Octoparse is a Canadian company that offers visual web scraping tool. Octoparse gives the option to run your agent on cloud and also on your local machine. This tool can export scraped data into csv, html, text and excel format.
Pros:
Point and click interface
Can handle JavaScript, AJAX, or any dynamic website
Website also available in Japanese language.
Cons:
Expensive for starters - Pricing starts from $89 per month
Runs on your computer
Advance features are bit complicated
Unable to scrape data from pdf
Mozenda is probably the oldest web scraping software that allows to scrape data from HTML pages. It has a Point and Click interface(now) to scrape data. The Mozenda software has features like: full featured API, track history, screen scraping, error handling etc.
Pros:
Easy to use for data scraping tool
Many years of experience
Cons:
Hard to understand terms.
Not easy for complex websites scraping.
Costly for enterprise projects (Pricing starts from $250 per month.)
Webscraper.io is a small chrome extension freely available on Google chrome. The extension is good for basic data scraping from on page for small projects.
Pros:
Free Chrome extension
Good for basic web scraping
Cons:
Has a bit of learning curve
Not for businesses and Enterprises
Connotate is now a part of import.io. Connotate offers a machine learning and visual abstraction tool to turn information from web pages into XLS or CSV Data Files
Pros:
Easily capture information from web pages
Good for form fill and data entry
Cons:
Require their desktop software to be installed
Not for small projects or business