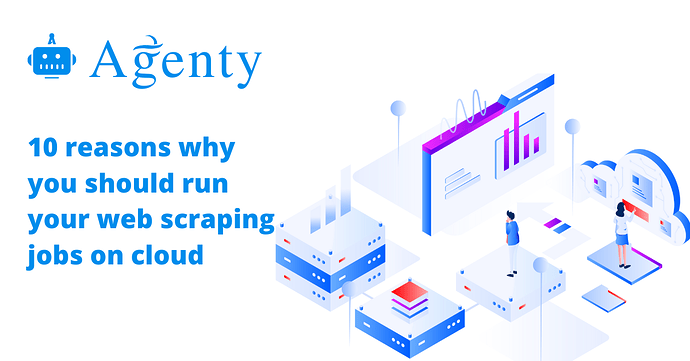 Runs on our server
Performing any web scraping job on cloud offers bunch of advantages and primarily allows you to a hassle-free execution of web scraping tasks without worrying about installing heavy dedicated hardware and also relieves you from the boundation of sticking to your system until the task is done to vouch for its proper functioning. When you run a task on Agenty hosted scraping app, the jobs actually runs on multiple servers in cloud from different IPs, that means you can shutdown the app or the laptop while the task is still progressing on the server.
Easy to scale
Ever thought of extracting millions of data would need a dedicated machine and storage resource to accommodate a large pile of it? Well, web scraping with Agenty is easy to scale to any amount of data set to dig because Agenty auto-scale web server actually allows users to have as much space along with the speed as they want according to the size of their web scraping projects and plan selected. Cloud based web scraping automatically goes to the selected region and to keep lower latency which results in speedy data extraction in massive amounts. Thus, If you have an extraction job of millions of products/items details etc. which otherwise requires an extensive human force to extract, transform and load the entire data, it's time to consider adopting cloud based web scraping tools.
No risk
Many times, it may have come to you as a challenge to attempt crawling a particular website and what you end up getting is a big 'NO' as a response resulting in you getting blocked by the target website. Of course, in such a situation the most common solution we try is to delete cookies but think about the purpose of visiting such a website which is actually to crawl for the important content, amounting in a large pile of data set and keep deleting cookies will be a hectic task. So the most convenient and practical solution is to use cloud-based web scraping technology which disperse the entire scraping job onto hundreds of servers and thousands of proxy nodes which circulate the scraping job time to time to expedite the job and most importantly it is a surefire way to avoid getting blocked to perform seamless web scraping.
Easy to manage
Web scraping can be a task of long hours consuming and requires a lot of patience but with the cloud based web technology like Agenty the one of the significant advantages of it is its manageable accessibility which can not only be operated from the desktop but also from a mobile, tablet to create, edit, delete your web scraping agents, URL list and many more functions. Start any web scraping job and therefore, can be controlled through your mobile or tablet device exactly like you do gaming on your mobile. Isn't it amazing!!!
API ready
Many websites require time to time updates in their content and their data has to be frequently updated. So, if you scrape data from such websites there has to be a simultaneous update in your database along with any changes in the target website. Here, integrating your existing system with Agenty API allows you to have any changes or updates taking place in the target website directly into your system so you don't need to look for any extra help to get fresh and updated data.
Fully automated
Operating a business requires taking an array of responsibilities and executing a lot of strategies aligned to various business functions. In modern businesses, running the much time-consuming tasks on automation gives you a miraculous boost in time to focus on your priorities. Automation in web scraping is much synonymized by the capability of scheduling web data collection jobs. Web scraping automation feature in your hosted app is like putting the entire web scraping tasks on autopilot without you having to be around your system all the time. Scheduling your web scraping job practically saves you a lot of time and getting the source material in any chosen time frequency (hourly, weekly, monthly etc.) right into your inbox.
Notification
A hosted web scraping app with a notification feature is of most use especially when you have a large number of URLs crawling and it may take some time to complete the job. So, getting and email notification alert keeps you updated of the completion of the job which therefore is very crucial when you have a long-time taking job to dig out a huge dump of data.
Experts support
Not all websites are easy to scrape. Scraping potential content from a web source for meaningful data could turn out to be a daunting task. Complexities such as structure of data, random html format, latency, IP blocking or even blockage the whole scraping job when using open source software or in-house tools on the data source could severely hit your entire data scraping project. Majorly such technical hiccups are bound to occur but employing a managed cloud hosted web scraping service with experts' support included, which should be capable of averting not just such snags but also any encounter of bugs along the process for which patches should be all time readily available and thereafter could render seamless.
Cross platform
If you have parts of business running across multiple teams and geographies then accessing and distributing sourced uniform data among other parts (overseas branches) can be a challenge. Deploying a cloud hosted web scraping application to your data resource is ideal. Whether you are on Windows, Mac or using any other platforms, all you need is an internet browser to access the application anywhere in the world. That means you have distributed accessibility to the essential data needed to your business.
Whether you are an ecommerce company looking to monitor the competitor price or a Machine learning business looking to source data to train your machine learning algorithms, the cloud-based web data scraper becomes an integral part for every business competing in the data driven competitive market.
Integration
Integration is not only a mathematical term, but it's given a way to solve a problem in real life. Every business has their own platforms, tools and how they view or use the data. So, it's important for a cloud based scraper to be easily connected with services like Zapier and IFTTT to transfer data in 3rd party apps without writing any code.
Conclusion:
"War is ninety percent information." ~Napoleon Bonaparte
The above quote is always relevant for all ages and in modern days where a major portion of earth's population is on the internet and all businesses are playing around the public data relating to all walks of life. So, the data collection resource has to be equally capable of doing everything needed to meet the quality and quantity parameters of the data and Agenty is devised to perform exactly the same, giving you the data power to stay ahead of the competitors.