Do you know what does a price comparison tool aims for — So that customer buys from you rather than your competitors?
A price comparison software not only assists an online retailer in tracking competitors pricing but also helps in searching stores that sell the same products. It also helps you in improving conversions, decreasing the bounce rate and cart abandonment, thereby leading to high sales.
Well, this is just the gist of how a price comparison software could help online retailers in boosting their profit margins, to know more and explore on how to use a price comparison software, please hop on –
What does price comparison mean ?
It's all about best pricing when you are shopping online. Isn't it?
While for a customer brand, loyalty, product value, perceived choice, logistics, and other factors matter — pricing could be crucial when buying a branded product. Let's take this example -
Product Name — Phillips Air Fryer HD9220/20
Websites compared — Amazon UK and Phillips UK and eBay UK
Amazon UK price is : £ 99.99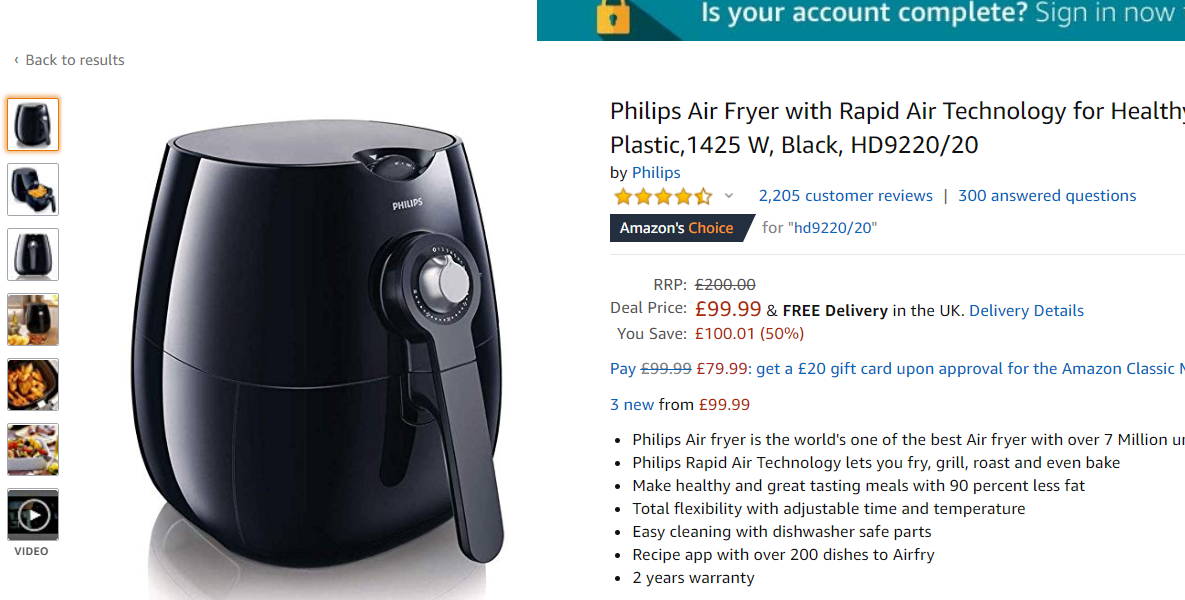 eBay UK price is : £ 138.95
Philips UK price is : £ 128.00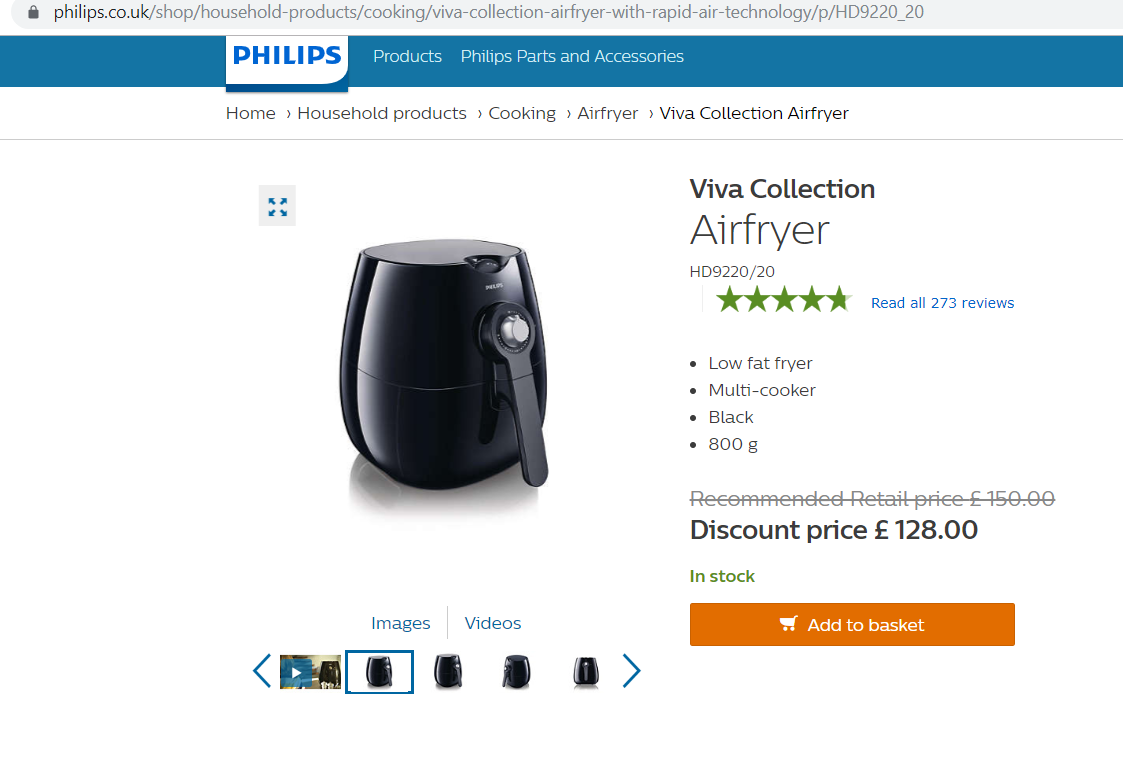 Imagine yourself in the shoes of a customer, which one would you pick? So, the price comparison is all about comparing the price of the same product on different sites available in the same region and currency.
So pricing is a distinguishing factor that can hit the bull's eye, i.e. get the conversions . Hence ensuring as an eCommerce retailer, an effective pricing strategy for your products is crucial and imperative for successful sales.
We just learned pricing has to be apt, but what are the challenges in deriving the right price? Or what are the features that could influence your pricing? Let's have a look –
Competition is GLOBAL and not LOCAL
We just saw a case of Philips Air Fryer, where prices vary for each online retailer. As a retailer you now need to understand you are no more local but global, it gives your customer an option to look for the best deal that suits his pocket and get it delivered in his home. So the very first challenge is that competition is now not LOCAL, but GLOBAL tracing and tracking without an automated tool would be nothing more than a nightmare.
Labeling Your Business
How do you want your business to be labeled? Just, for instance, herbal, no preservatives products are sold at a premium rate; on the other hand, the same herbal products from a government brand could be purchased at a lower price.
For this, you need to understand the customer psychology National Geographic in their famous Brain games series placed two cakes, one for 15$ and other for 55$. All the customers who tasted it found the 55$ cake much creamier, richer, and tastier. But to tell you a secret — both cakes were the same, same ingredients, same oven, same time and same chef. NO difference, it was just about the label that quality comes at a premium rate. To see the test you can visit the link here.
It is the biggest challenge while drafting your price because somehow your price dictates your business brand.
Know when to launch discounts and offers
The end of season sale started by brick and mortar shops were famous for clearing the stock before replenishing with new styles and products. But being an online retailer, simply launching "End of season sale" may not serve the purpose as many might not even know you exist at the first place.
So how and when and on what discount should you apply? For every new user to get a substantial customer base or bundling the discount like shop for 600$ and get a 50$ voucher?
Discounts and offers play a crucial role in deriving the price of a product and should not lead you to lose your profit margins.
Same Pricing for omnichannel
A study by Wolfgang Digital's KPI Report 2019 states that the majority of the people browse websites via a mobile device but purchase from the desktop*.
Another study showed — 80% of shoppers used a mobile phone inside of a physical store to either look up product reviews, compare prices, or find alternative store locations.
Interesting isn't it?
With customers bungee jumping from one device to another to get the best deal, for an online retailer, it is vital to keep the pricing same across the channels.
How price comparison software helps you in overcoming these pricing challenges
A price comparison software helps online retailers in the following ways –
Optimum Pricing to help you go GLOBAL
A price comparison tool uses crawling and web data extraction techniques to extract data from competitors websites that contain — product prices, product code, and other data parameters that you want to set. The unstructured data is then processed via Data intelligence and organized to help you decipher the price strategy adopted by your competitor. A price comparison tool with real-time updates for prices is helping you to devise a robust pricing strategy.
Let's pick an example of Philips Air Fryer we have seen above. With a price comparison tool, you would have the prices of Amazon, eBay, and Philips retailers and now based on your data points of buying the product, shipping, storing, etc you can come to a price that could help you in fetching a customer.
One of the strategies that could be adopted here is Penetration pricing, i.e. pricing a service/product low enough that it attracts customers and their loyalty once they are satisfied with the services and quality, you can raise your bar. Amazon in India was one of the examples when they launched their operations, their prices were enough to lure customers, but now they have raised the bar, and people are somehow addicted to it.
Another example is Lidl that was able to gain a competitive edge over their premium and premium rivals by setting low prices.
Branding your business with a price comparison tool
Well, you can establish yourself as a retailer. How? Use a price comparison tool. Let's take an example.
Now you were successful in getting a customer base by selling at optimum pricing, and the next step is to label your business. For this to happen now focus on the "whole package" offered by your competitors and just not the pricing with the help of a price comparison tool. Whom are they serving? Customers, who are price conscious or affluent ones? Is there a pattern of how and when the prices changes?
Study and analyze these details and opt for pricing strategies like price skimming and premium pricing to brand your business and also make profits.
Playing with discounts and offers
Recently one of my acquaintances added a product in the cart and logged out for some reason. Later in the day when he logged back, he saw a notification for that particular product saying "x% discount only till midnight." Within the next 5 minutes, the purchase was made.
With a price comparison tool, you would get real-time updates of when the price dipped and did it lead to a sale? Such types of inputs will also help you in making offers and discounts more apt for your consumer and will keep you ahead of your competitor.
Assist you in Maintaining Price Strategy across Channels
Do you know if your competitor is selling the product on his app at the same price? Or has he bundled it with discounts? A price comparison tool helps you in getting data from all sources in real-time so that you have the exhaustive data sets and make corrections and edits on the go.
Advantages of Using a Price Comparison Tool for the Retailer
We just saw how a price comparison tool could help you in tweaking your price strategy and earn revenue, and that's its most significant advantage, but let's look at some of the other features a price comparison tool has to offer –
Check on Prices
By checking the prices in real-time, you get an extra edge over your competitors sailing in the same boat and also new entrants in the market.
Enable Intelligence
Loaded with Price Intelligence, a price comparison tool offers complete visibility into product assortment and competitors' pricing, empowering you to make profitable pricing decisions. It also assists you in building dynamic pricing strategies by setting pricing rules and criteria to beat competitors by creating scenarios for online business success.
Make some room for Improvements
A price comparison tool always offers you a scope of improvement to optimize, with triggers, alerts, and data set, you would know the positive and negative of your strategy and make some informed decisions in real-time.
Improve your customer service
We have seen how home appliances firms are now offering services to beat their competition and gain applause from the customer. With pricing and product data, you can enhance your customer services and make them your loyal clients.
Enhance your Business decisions
Using a price comparison tool, you can also predict the trends and take actions to mitigate risks [in case of any]. A price optimization software tool that offers insights to pricing benchmarks, landing pages, product study, navigation results, and payment gateway flexibility is convenient in improving your business decisions.
Act on Customer Behavior
Track a consumer buying pattern and try influencing him to make a purchase and turn him to a loyal customer. Or the data collected can help you in making a personalized recommendation to a customer based on his likes, an offer which cant say no to…
I hope now you are clear on how a price comparison tool can help you in making informed decisions with positive growth. However, if you still have any query, feel free to reach out, we are just a call away.
We at Agenty offers the Geo-based price comparison tool to help retailers to track their competitors on store/city level. Request for a demo here.