If you mention to a prospective buyer of apartment, we are using AI in real estate; they would imagine a house that can talk to satellites and get converted into a flying jet when needed. That's the understanding of a common man, but what about you? Being a real estate owner, do you also believe the use cases of AI is similar to what is shown in sci-fi movies? Then this post is for you that helps you in diving deep to how Artificial Intelligence and Machine Learning can help Real Estate companies in finding the potential buyers, market, research online. Let's get started –
Artificial Intelligence in Real Estate
Artificial Intelligence is a branch of computer science that is also referred as Machine intelligence and helps humans in getting the same behavior of speech, visual perception, language, translation or decision making from machines as humans act and perform.
So when we talk about AI in real estate, it's making an effort to create intelligent homes using intelligent machinery. AI could also be used by prospective buyers in finding the right home as per their needs. One of the most useful approaches to achieve artificial intelligence (AI) is through Machine Learning (ML). ML, a field of computer science directed at making computers learn from data, recognize the pattern without being explicitly programmed to do so.
The world is already under the spell of ML-enhanced software for its ability to entirely automate time-consuming, repetitive tasks, make intelligent recommendations, accurately detect suspicious behavior and many more.
With Artificial intelligence making its presence felt in industries, like finance, retail, insurance, healthcare, and more. Real estate is yet another industry embracing the full power of the disruptive technology.
Artificial intelligence is the key to all data-based questions like -
If the elevator of the building gets overloaded, would it be able to calculate and raise the alarm?
Once the building is in place, who could be the prospective buyers?
Would solar panels installed on the rooftop offer a positive ROI?
Basically, an answer to What, when, where, and why of an inch of a wall could be caught with ML-enhanced software.
How AI helps you in finding the buyer, monitoring the market and property value
Most of the buyers or tenants look for a property online, once the house/place is finalized have to undergo verification and legalities of messy paperwork. However, with the advent of big data integrated with Artificial Intelligence, it's smooth sailing for the buyer and the seller.
Once you access and incorporate web scraping real estate data into the databases, it could empower the decision by aligning your growth with the marketing strategy. Given the fierce competition, the real estate industry has to face. However, it's crucial to access the data first so that you can be the disruptor in your field.
Web scraping or data Scraping can assist your firms in monitoring demand/supply, online public sentiments, and market trends. Or in simple terms — the massive amount of data would only make sense if could be structured, sorted and filtered to make sense; ML helps in organizing the data, recognizing the patterns and aids in making an informed decision for the team.
Access the Property Value
The graph below shows the residential property index of Austria and Hungary, as an owner, how do you make sure that the property you are selling is following the trend?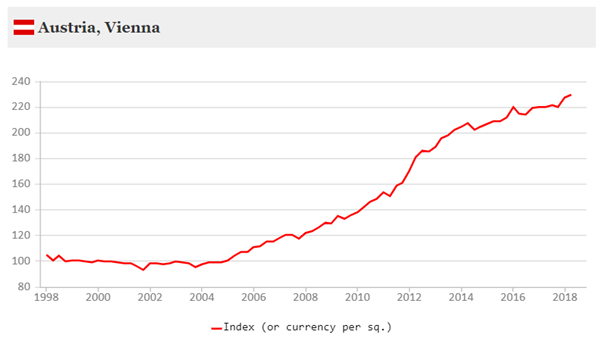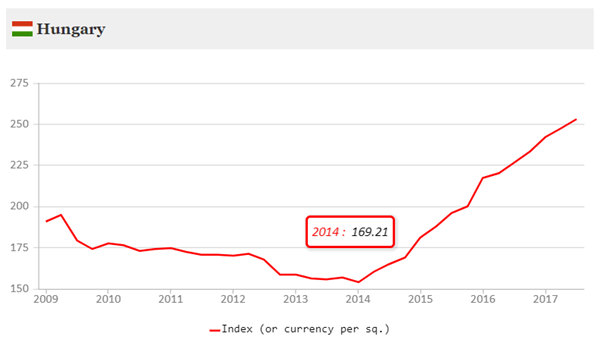 Just imagine if you receive the data ahead from your competitors on how the market sentiments can move the commodity pricing, you can differentiate your strategy and boost your earnings by incorporating web scraping data into your decision-making. Web data scraping is really an effective way to access high-quality data with no manual intervention.
We all know accessing the value of a property is a multi-step process that depends on many factors, but it can improvise with the web's rich data offerings. The data collected via web scraping could be aggregated and integrated with market analysis to produce a clear indication of what trend would be picked up in the near future.
With data, such a location could be a straightforward checkpoint, age, lot size, construction quality, square footage, time of sale, proximity to neighborhood stores, schools hospitals, etc also play a vital role in appraising the value of the property.
While as an owner you can justify the prices you are offering (back up with data) it also helps buyers to know what the offer is all about, rather than last-minute surprises.
Vacancy Rates monitoring
Each industry goes through peak and off-season, same goes for real estate that is subjected to a Natural vacancy rate (NVR), i.e. the tipping point for markets rental growth. Once you understand the trends and triggers via web scarping data into your analysis, you would find yourself in a better position than your competitors.
NVR's vary over historical periods and across commercial, residential and special use properties. It needs the expertise to parse the complex data and determine market equilibrium. Web scraping tool offers help in creating a high dimensional data set, built for small/medium or large firms across any sector. Collating the data with other parameters used by the seller, buyer, and property managers can unlock the enormous potential of forecasting opportunities and open avenues for your client in getting a positive return on investment.
For commercial real estate agents, feeding this data into their in-house system can assist them in determining the best time to buy/sell the highly sensitive property. For buyers as well, the data can help in negotiating the best offer to market them at the most influential position. Thanks to customizable web scraping tool that geographic constraints could be set while scraping making it more sense for commercial and residential properties with region, property type, and cost as well.
Estimating Returns
The generic rule of property buying is to get a positive return or higher yields, however with market fluctuations and a dip in demand could make the matter worse. However, the web scarping tool can assist you in getting a list of variables and properties to calculate historical yields. Parameters like property type, neighborhood, square footage, and other such metrics offer real insight to the investors and offer informed decision making.
Web scraping tool allows the compilation of high-dimensional and complex data sets [like net yield] to make analytics-driven investing more robust and supported by facts.
A real estate agent, when sees there is a dip in home buyers, could make a better proposition for rental properties to target a high yield net. The features need to be maintained with amenities, based on the historical data about an estimated life of an AC, the owner could take up a yearly maintenance plan or look for offers to buy a new one in advance. Even the property size could help in achieving high yield. With data in hand, users could evaluate what's the optimum quantity that has offered high returns and can make an investment in those properties.
Real estate business has been struggling to include technology-based on facts and numbers, with data scraping tools and AI capability; however, the smart choice could now be made, offering investors unique and insightful approaches to optimize the property portfolio.
Understanding Market Sentiment
Understanding the rules and protocols of the market is like fighting the odd, so many variables, parameters, and conditions influence it. That's why web scraping is s much critical. While as owners, you can get answers to specific queries, but as the market needs evolve and to serve the tech-savvy customer, you need to innovate and look for more facts from the data gathered.
Predictions, forecasting is crucial for you to meet customer needs. While many investors rely on their gut, taking a path of number crunching, empirical formula and data analysis would only be beneficial and much more accurate.
Monitoring your competitor's pricing is one of the keys in staying relevant, with data scraping you can not only know their pricing but the kind of strategy they follow for you to tweak your pricing strategy. The tool could gather data like firm name, agent names, average listing price, price change, time on the market, the agent responsible, etc empowering you to plan and float a better strategy.
Knowing when the market might cool down or during the recession, the price ranges would be an effective way to plan a risk mitigation way ahead using the data collated.
As the worldwide web grows, the amount of data generated would grow exponentially, opening new opportunities to improve and streamline processes, and make informed decisions. So, this is the best time to act and get the most out of the web scraping tools ensuring your organization is future proof and fully prepared for disruptions.