Today's e-commerce business highly depends on dynamic pricing to give the best offers to the online consumers. Dynamic market powers bring out a wide scope of value change to all the online business. Till now, costs were represented by the laws of market interest, yet with AI entering the playing field, the dealers and service providers need to consider the customer's point of view. With the calculation done by an algorithm, the customer is happy to pay for a specific item or service.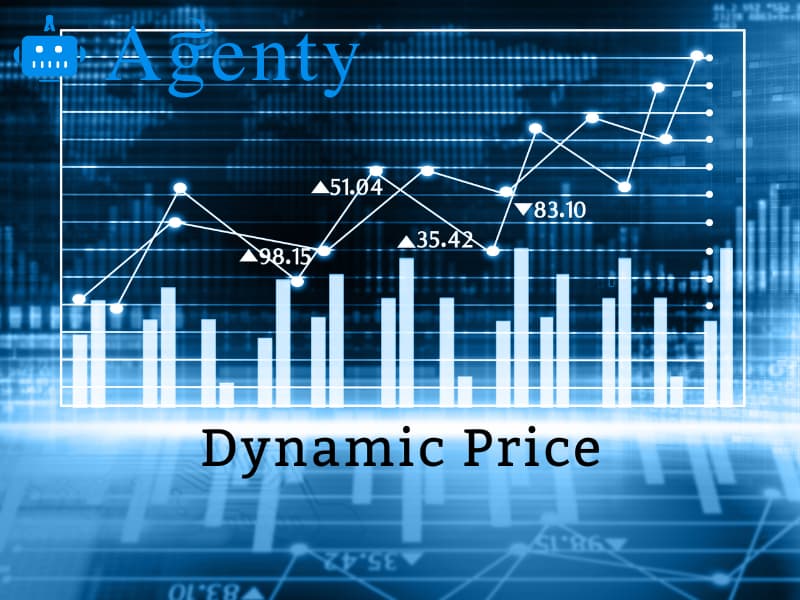 The idea is clear: have costs consequently fluctuate depending on information about supply, historical data and request, and market competition so as to rapidly adjust to changes in the commercial center and improve profit. As calculations become more dominant so more information gets accessible, organizations' item and service costs can naturally react to demand and supply competition in real-time.
So, what is Dynamic Pricing for Online Retail Business?
This model of variable or 'dynamic' pricing, in which a business modifies its costs as indicated by economic situations. Let's consider the airline industry where it is fully based on demand and supply chain. There dynamic pricing worked way too well. With internet and e-commerce growth it is being most used.
Dynamic pricing is especially pivotal for the retail business. Internet shopping has achieved more extensive item ranges and elevated in a competitive market, with costs now accessible for correlation and analysis all day. Retailers may have just expected to represent the costs of a couple of competitors in a 10-mile range and over a bunch of products. No matter what, web based or eCommerce business has made a huge difference.
Ecommerce businesses have a huge need for over numerous day to day marketing and pricing decisions to make. Huge online retailers like Amazon, Walmart and more keep changing their prices using competitors price monitoring solutions over a period of time in minutes to minutes so frequently. It seems a tedious task to do and make it updated. Many online businesses lose their productive time in doing this.
How is AI-Driven Dynamic Pricing considered?
The center of AI is machine learning, which deals with the standard of changing its algorithm and working as per the new information designs. Basically, analytics software makes calculations to distinguish designs from the information and predict costs dependent on that data.
The parameters in these calculations are consistently in a condition of steady change, one has the option to stay aware of the transient situations. This is the place AI comes in, which adjusts its algorithms to oblige to the consistently developing pool of data and fix costs likewise. This is the enchantment that gives you a chance to give your buyers a customized understanding while at the same time shopping online.
In 2014, Amazon thought of an upsetting calculation, for which it conceded predictive stock conditions. It enabled retailers to decrease their delivery time and cost by just predicting which customers were going to purchase. This permitted the retailers a superior control on costing and their marketing system.
Let's Consider Amazon for its Real-Time Dynamic Pricing. Amazon has a huge e-commerce business and deals with an immense volume of online shopping activities and is always observing the competitor's costs on a large number of products. Amazon in this way self-creates the basic data required to follow its dynamic pricing. A study demonstrated that the cost of 100 arbitrary items on Amazon changed by up to 260 percent through the span of a year. For instance, on the UK site, a similar was offered at costs extending from £235 — £699.
A product's value is changed at regular intervals, while certain products' costs are switched up multiple times in the year. A huge number of the value changes were automated and decided dependent on products. Sales analysis and predictions were dependent on Amazon's large amount measure shopping data and groundbreaking AI algorithms. Amazon intends to enhance sales volume and cost dependent on its supply, demand, and competitors' information. In 2016, Amazon finished its valuing coordinating approach, liberating it from the guarantee of offering the most reduced cost and moving to a determined value model dependent on customer behavior.
Benefits of AI Dynamic Pricing for Online Business
Price Predictions and Analytic Improvement - Those were the days where one should sit in front of a screen for quite a long time, deciding costs dependent on the information from statistical surveying. Now the perfect prices can be expected presently controlled by the algorithms, considering the different market powers. This is one of the best aides for retail life cycle choices.
Time Saving with Automation - Consuming less time and more proficient outcomes automatized solutions are the fate of online retail. Automation spares an enormous amount of time and exertion and gives the retailers and directors a chance to ponder their technique and business development.
Personalization - With an analyzed amount of the information it is an obvious thing that evaluating prices is the main advantage retailers will get from it. A great deal can be deduced by looking at an individual's browsing history and search designs. The item decision of a client turns into a reasonable expectation. This can prompt a major spike in benefits whenever executed well. Presently you know how those spring up advertisements you see on different websites show things you discover hard to stand up to.
The neck-breaking pace at which innovation is creating, it is unimaginable for one to make do without amalgamating it with one business and promoting system. This is the ideal opportunity for retailers to step out of their usual ranges of familiarity and start carrying on, a little, similar to tech organizations, utilizing the online condition to its fullest, not to simply anticipate costs, however, to likewise deal with their clients.
Personalized Pricing
Personalized utilizes client information, for example, age, marital status or even pay section, to decide various costs for individual customers. The model has as of late been at the center of pessimistic features, with the Competition and Markets Authority (CMA) had been into some concerns that brands are utilizing individual data to exploit helpless clients by offering out of line, 'personalized' costs.
Significant progress in man-made brainpower (AI) and AI have enabled this customer information to be accumulated and analyzed on an immense scale. The frameworks can offer various costs for individual customers depending on what retailers figure they would pay for a thing.
The personalized pricing model should be certain for shoppers. Loyalty card plans, for instance, have for some time been utilized to boost customers with individual offers. They can likewise give custom-made shopping encounters - all dependent on customers individual purchasing patterns.
Difference Between Dynamic Pricing Vs Personalized Pricing
Personalized pricing is the point at which the costs of the product fluctuate simply dependent on the purchaser's behavior. While dynamic limiting should change the pricing dependent on everything without exception aside from the purchaser persona. Following an absolutely personalized pricing technique could prompt express pricing issue. The success methodology is to mix these two. The costs differ in both the cases; hence how about we call this a dynamic pricing. An AI stage can help ECommerce organizations with a capacity to move around the costs dependent on purchaser parameters and non-purchaser parameters.
Future of Dynamic Pricing
While AI is now being utilized to automate dynamic pricing in retail, the industry is simply starting to expose what's conceivable. There are a lot more advancements in the pipeline.
Future AI could be utilized to prompt retail classifications groups to make changes in accordance with pricing methodologies dependent on computerized analysis of execution information, or even consequently create and implement new pricing procedures dependent on objectives given to the framework.
Many have taken negatively and commented on the effect that such programming software could have on business levels over the UK. Be that as it may, instead of automating and limiting jobs, AI can possibly reevaluate retail by offering superpowers to pricing groups. Apart from their routine operational errands, retailers can be allowed to concentrate on creating and improving their organizations consistently.
AI Dynamic pricing can assist you with anticipating which clients have a higher probability of purchasing and at what cost. It can likewise anticipate when they are probably going to buy and which prescribed offers will assist you with making an up-sell. There is an automated AI machine learning for an E-commerce business to assist with dynamic pricing using AI.