You can edit and change your existing plan at anytime on Agenty. To change your Agenty plan - You need to go to settings > subscription > and then click on the change plan button.
It will load the pricing table, where you can select the plan you like and then click on the Select button to change your plan.
Upgrade plan
The change will be applied immediately. Also, If you have used less than 30% pages credit available in your current plan - The prorate price will be applicable to discount on your upgrade.
For example - You are on a Basic plan and paid $29 on 1st of Jan. After upgrade you ran a web scraping agent job with 500 URLs and consumed 500 pages credit (10% of total 5000 in basic plan).

Then you are upgrading to a $99 plan on the same day - You will be charged $70 only on upgrade because you have used less than 30% of pages credit in your current plan.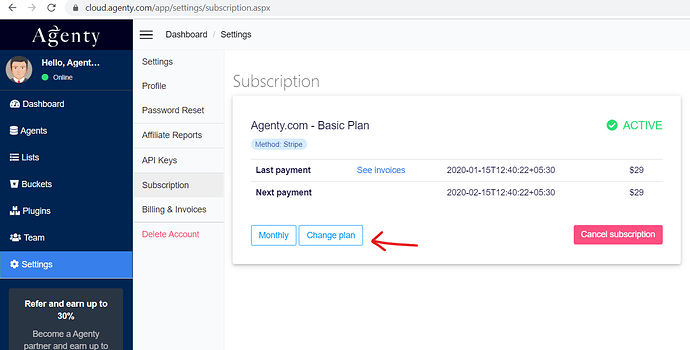 Downgrade plan
The change will be applicable after period_end, and you will be switched to a new selected plan on your next month (or year) anniversary.
Change frequency
Click on the Yearly or Monthly button to change the frequency.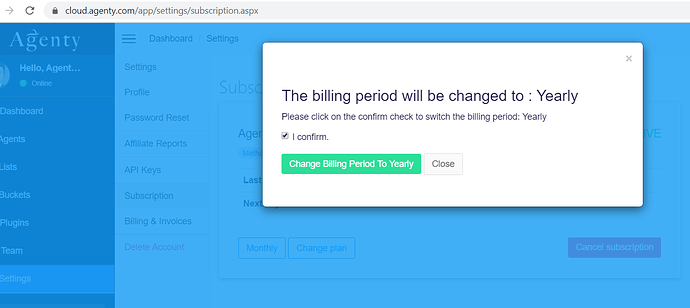 Cancel plan
Click on the Cancel subscription button to cancel your subscription.
Remember - If you cancel your subscription all data, agents will be deleted.
All agents will be deleted
All lists will be deleted
All buckets will be deleted
All stats and reports will be deleted
Account will need to be re-created