Are you a brand? or trying to become a retailer brand?. Do you know that the most important thing in retail is pricing? How important is it to monitor or track your competitor 's price? With the increase in the competition, it's really important that you are playing at par with the competitors around at the very least, in fact, better than the rest.
Thus setting the right online prices can be game-changing for your bottom line. So competitor's price monitoring is an essential part of creating a winning pricing strategy. These days, since its highly competitive marketplace, it is really essential to track and monitor your competitors' prices, promotional tactics and offerings in real-time, so you can weigh-in your strategies, customer responsiveness and market standing.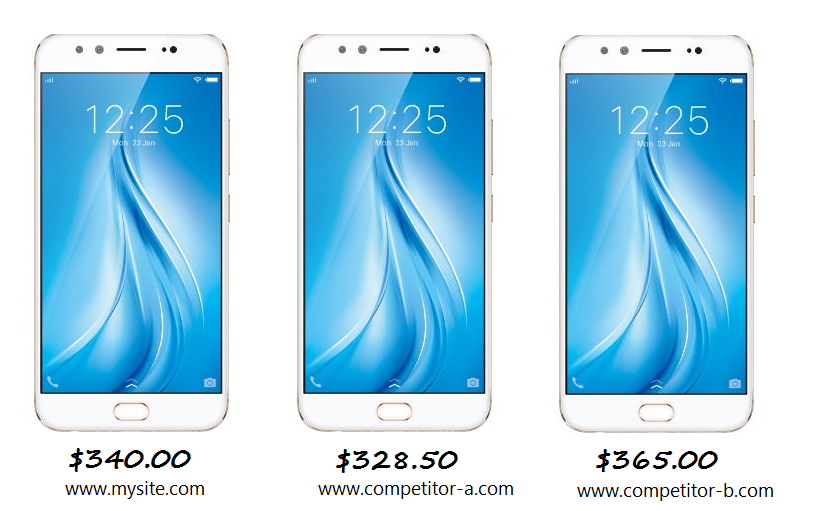 Why price monitoring is important
The retailers change their inventory prices very frequently may be several times in a day or week and you need to track these changes for each individual competitor, brand and product group right after your competitors have re-priced their goods to find out :
List of products, where I'm cheaper then my competitors : Why not increase the prices, big margin opportunity
List of products, where I'm higher than my competitors : Why not decrease the prices a bit to increase the sales and revenue
List of products, out of stock at competitors sites : Increase profit margin; Add to featured product; Increase to search network advertising budget to rank top on search
And many more reports…
But this task is almost manually impossible because with the thousands of online store product names (SKUs), it's almost impossible to manually apply the price tracking and price changing. Especially if you are to apply complex pricing algorithms and rules. It's not uncommon for customers to scour the internet for the best bargains. Therefore, to win over customers it's imperative to price the products competitively. But with constant price war, new competitors popping up daily and therefore a constant threat to match up with the better price for your customers to get a better deal is always looming over and staying on top of the pricing game can be daunting. However, pricing the products too low can drive down margins and make it impossible to sustain a business. What's more, most pricing managers today simply don't have the time to manually track competitors' websites for each of their products. The key is to have accurate information to price the products high enough to maximize profits, while low enough to win customers. By the way, competitor research is not really an easy task. Competitive price monitoring will only be of use if the competitors, who directly influence your sales as well as price positioning, are correctly defined.
Customers will always prefer lower prices. Ensure you are providing those to success in your business.
Since we have understood what is competitive pricing and monitoring the strategies for growth, we will now discuss what are important steps to creating a successful competitor price monitoring strategy.
Today, the e-commerce retail market is highly competitive, thus a Category Manager is engaged with general strategies to counteract the activities of competitors. In e-commerce, it could very well be the price. Online shopping means online comparison shopping. If your prices are not similar to or better than the next retailer, you're going to lose the sale. It's that simple. According to the latest PWC research, price is the key factor in a purchasing decision. Well, let's make the best use of competitive pricing intelligence.
Find the competitors actually affecting your sales
So you need to compete and everyone out there online is your competition not literally, meaning that our strategies and planning should be based on keeping 100000 of e-business and their strategies in mind. It's pretty common to meet retailers who don't know which competitors really influence their performance and sales. Alternatively, to set higher prices while keeping the same sales dynamic. Don't be one among them. You need to identify ideally two to three competitors whom you are actually competing with. Agreed that a single retailer is often competing against thousands of retailers for any particular product in any given category but that ways you are not playing the game right. You need to understand if there are multiple players in the market then there is enough market as well. Instead of taking everyone as your competitor and running a long race, identify people who are doing just better than you and rise above them. It is like gradually climbing the stairs. To define the number of competitors, you need to find the assortment intersections in your and your competitors' online stores. Primarily the only thing you should care about is price-sensitive products, product groups, and categories, which your customers could prefer at competitor's store. Use search engines like Google and Bing. Type in a few products that you sell, with a few other keywords like location (if appropriate), and see who turns up in the results or Google ads.
Don't be part of a price drop war
Know your Margins – Always keep this in mind that you have giant players competing in the market and winning the online pricing war can be a loss making war for e-commerce retailers. The truth of online retail pricing is that the lowest price doesn't necessarily win. Large online retailers like Amazon have an advantage in competitive pricing, as they can set the price low enough to run smaller retailers out of business. The strategies and tactics used to find the perfect price at the perfect time. It's both an art and a science. What you need here is data… lots and lots of data.
In fact, price battles usually end with pricing your products too low. Even with enough customers, you still may not make a profit. Price battles can really hurt your product sales and your profits. If you are pricing your products really low make sure you are still earning a profit (at least from the vendor's side) or you can choose products that have a low CPA (cost per acquisition) to minimize loss. Just remember the end goal – if you are sacrificing or losing money on one item you have to make a profit on the rest of the products sold. Or instead, you can make your products look like a better deal by maybe combining it with a good offer. Even if the profit is not impressive, this strategy stimulates client acquisition, opening the door for further marketing efforts. But do not cut down on our margins.
Find your price positioning towards market price/competitors' prices
If there is strong competition in a market, it tends to be a wide choice of whom to buy from and competitor pricing plays a more significant factor in the buying process. While monitoring the competition regularly shouldn't be the only criterion you use to set your prices but it most definitely should be part of that equation. Consumers these days don't buy based only on the lowest competitor price but today's smart consumers will certainly be aware of the range of prices available to them and what a good price looks like.
You can use Price Index to know exactly which competitors are influencing the sales of your online store; it will show whose changes affect your business. The visualization is very important. You can make the graph of price positioning of your products, leading brands, categories and a whole assortment of your online store due to similar parameters of the competitors. Price positioning allows you to determine how your prices might affect your value proposition. It also helps you to highlight those competitors (and marketplaces) where your current pricing might need some adjustment in order for you to compete more effectively. Please note even a highly discounted pricing can be advantageous if paired with the appropriate merchandising strategy.
Know your Unique Selling Proposition (USP)
Selling widely available products also makes it difficult to differentiate i.e. provide a compelling reason for the consumer to buy from you versus your competitors. While the pricing strategy is very important but still it's not everything you need to lead the charts. You need to know what is that quality that makes you different or if not different better than the rest. These days loyalty is highly regarded as it drives repeat business. However, in today's technologically savvy fast moving world where price competitiveness is the key and brands compete more openly both online and offline, customer loyalty is coming under increased strain. What's special about you, is something every company needs to define especially if you are an online seller. This value proposition could help you get some loyal clientele. This could be fast delivery, good customer support, delivering what was promised, exclusive product, free shipping etc. You can also offer incentives to motivate your customers to buy because interestingly loyal customers also need a reference point to ensure their loyalty is not being taken for granted. With pricing competition at an all-time high, you have to think outside of the box when crafting a marketing or promotional strategy for your online store.
Monitor day to day and historical trends
In additional to tracking day to day pricing, monitoring trends over time will help you gain better insight into your specific competitors pricing policies and tactics. You can set up automatic schedules for monitoring multiple retailers at the same time apart from that you can extract more than just price points (data such as reviews, ratings, specs, product data, and more).
You'll also want to monitor stock availability in addition to prices, look at historical trends and averages and set up alerts to notify you whenever a change occurs (keep your finger on the pulse of you, them, and everyone else). Pull what you need to succeed. Your pricing strategy needs to pull data from your costs, your product value, the market demand, your cash needs, and your competitor's pricing and more. Monitoring and Managing, that's the two-step plan to pricing success. Competitor price monitoring may not be the only tool in your shed but it's definitely one of the most useful. It's only with all of that duly collected and considered that you get the whole picture about your trends and your competitors' trends. Understanding what is that gap between the perception of value and competition price is essential.
Higher pricing for few products and more profitability
Is it possible to raise the price while increasing margins and staying attractive in customers' eyes? You can know for sure when and which prices need change with help of price tracking tools. The reprising takes 15 minutes per day. If you have a visible graphic of your price and positioning of the products, you can surely change the prices in order to achieve the maximum profit. Always make sure that you are looking at internal data for tracking your historical sales and trends, promotions, your brand and products' perceived value etc. and also external data which is essential for competitor prices, holidays, time of year, special events and more. Because together, they provide the raw data you need to make an informed decision about your prices. You can find optimal price points based on both real-time and historical data for yourself and your competition, giving you a complete overall picture of the market and everything inside it. Hence, you may be able to locate your "place" in the industry hierarchy: are you top, middle, or low end? Find your data-backed answer, and you can better market to your target audience. Always remember pricing obviously impacts your sales: too high, and customers will run away screaming, too low, and you're leaving money on the table.
Other factors apart from these are also important to be kept in mind like using your pricing data to set business rules that automatically respond to competitor price changes. For example: "Match any Amazon price for any specific brand let's take example of Samsung brand, providing my margin is greater than 12%". Integrating your price intelligence data to your back end content management/stock control/PPC/PLA systems delivers the highest ROI. Developing a winning competitor price strategy requires discipline. It's not a one-off activity that can be implemented and forgotten about. It requires a systematic approach which includes consistent monitoring of competitor prices and a consistent approach to price management. Which products of yours would give the best data points when comparing with someone else's? It may not and need not be absolutely everything you sell.
Through competitor pricing analysis, Price Index and Price Algorithms smart dynamic pricing software can make automatic price revision suggestions.
This provides the retailer with the following benefits:
You can eliminate the possibility of guesswork and take calculative decisions based on numbers and data.
You have a total visibility and a strong control of price management impact
KPIs achievement
Competitor price monitoring is often neglected but a vitally important key to growth in a tough market – it's so important that you really need a dedicated team providing you with competitor price tracking services at every stage of your selling campaign.
A piece of advice before selecting any software of developing one for price monitoring - It is extremely important to ensure accurate product matching while comparing products from different sites at once. Your code or software should know the exact match and should ensure that the products are being matched by the most commonly used identifiers, such as UPC, EAN, product brand/title and product attributes. This would imply that you will be able to analyze any one product across multiple sites at the same time, thus saving time, and ensuring you remain abreast with product changes across multiple sites.
In order to optimize sales along with the profits, pricing managers from every retail category require tools that support their decisions to raise or lower prices or maintain the company's position. Agenty is your go to tool that will help you to track pricing and analyze data in few clicks. It's a The SaaS based data scraping tool and an integrated, scalable platform built to power your data scraping project
Numerous price monitoring websites provide an information regarding competitive price monitoring and price tracking tools but with our managed screen scraping service, our data experts will build scraping agents tailored exactly to your needs and execute them to collect data for you. Websites changes frequently! Our expert team will monitor and proactively manage your screen scraping agents to ensure your data collection is not affected. Your agent's performance analyzed and optimized. We use sophisticated tools to zero in on potential problems before they affect your data collections.
Lastly, this should also be noted that regardless of all the strategy and tactics you ultimately decide on, market pricing should be in there someplace. No business is an island unto itself, and loyalty is a thing of the past. Consumers are only interested in getting the best product at the best price.
Are you still monitoring your competitor price manually? - There's no need to spend precious time in manual monitoring. Let us automate this for you, while you concentrate on running your business to its full potential. You have to be competitive because in the digital realm you're competing against everyone. And the stakes are high. Very high!